Home

Home

Mountain Man Skills

Events
Getting Started


Equipment


Weapons


Clothing


The Lodge

Further Up The Trail


Campfire Forums


Per Sylvas Blog


Trekking


Primitive Hunting

Resources


Articles


Web Resources


Further Reading
Groups



Colonial


Greywood Colonials


Western Fur Trade


The Texas
Association of
Buckskinners



Comanche Peak
Muzzleloaders



Hanta Yowin



Ranger Springs
Skinners



Women of the
Fur Trade


Texas Rev


ROTlivinghistory:
Republic of Texas
Living History



Texian Legacy
Association



TWI EVENTS:
Texas War of
Independence

US Military


The 7th US Infantry
Living History
Association


Texas Clubs List

In Memoriam


Yipper T. Haywire


Don Ogg

Texas Association of Buckskinners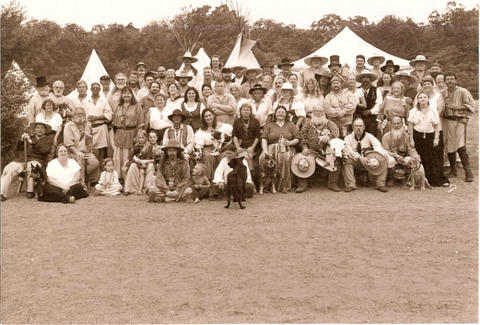 The Texas Association of Buckskinners began in the late 1970s when three friends who were interested in survivalism decided to put together a group to focus on survival skills based on the Mountain Men of the Western Fur Trade.
After more than 30 years, one of the oldest buckskinning groups in Texas is still going strong, with events held the last weekend of January (Deep Winter), the third weekend in April (Spring) and the last weekend in October (Fall).
Always welcoming new members, the Texas Association of Buckskinners is a friendly group that encourages period correct equipment and skills, while helping new pilgrims get more involved in the hobby.
Current president David "Bulldog" Hoffman, the nephew of one of the original founders of the club, welcomes all buckskinners and new pilgrims to attend upcoming TAB events.
More information
Texas Association of Buckskinners Yahoo Group: http://dir.groups.yahoo.com/group/T-A-B
Back to Top